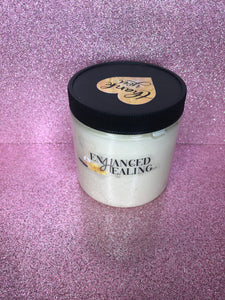 This product is infused with High Quality Grade A Organic all natural ingredients that work together to quickly saturate the skin and provide relief/healing to dry , itchy or irritated skin. This product works well on all types of skin due to its inflammatory and healing properties. It softens, moisturizes conditions and tones the skin. It protects the skin against free radicals, is a natural SPF/UV protection against sun damage and restores skin elasticity. This butter works well at reducing/repairing wrinkles, fine lines and scars. This is often used for Eczema and Psoriasis as well.
Application Directions:
This Body Butter is cool to the skin and is simple and easy to apply. Just place a small amount to the affected area and rub in for 30 to 60 seconds as often as needed or until desired effect is obtained. Results may vary by individuals. Avoid contact with eyes and if it occurs, rinse immediately. If irritation does persist seek medical help. This product can be used on damp skin to seal in moisture. 
Benefits :
Natural Antioxidant 
Vitamin A,E & F
Highly Moisturizing 
Heals Burns and Minor Cuts 
Protects Ski against free radicals 
Relieves Sunburns 
SPF/UV Protection 
Reduces itch and redness/soreness
Anti-inflammatory/Anti-aging 
Protects the skin from skin damage
Stimulates collagen production & Softens skin
Relieves Muscle arches and joint pain
Fades dark marks /Scars
Calms irritated skin
Prevents bumps after shaving 
 All Natural Ingredients:
Shea Butter,  Coconut Oil,  Castor Oil, Olive oil, Vitamin E . 
Store this product away from light and heat to preserve their freshness and potency .
DO NOT USE IF ALLERGIC TO ANY OF THESE INGREDIENTS. 
Legal Disclaimer:
Statements made regarding this product have not been evaluated by the Food and Drug Administration (FDA)  and are not intended to diagnose , treat, cure, or prevent any disease or health conditions. Also by visiting this website and making a purchase , you are agreeing that you have read this disclaimer and is  responsible for ensuring that you are not allergic to any ingredients listed in this product. KEEP THIS PRODUCT OUT OF REACH OF CHILDREN.